The Single Euro Payment Area (SEPA) aims to create an integrated market for electronic payments in euro with no differences between national and cross-border payments. Regulation (EU) No 260/2012 of the European Parliament and of the Council or the so-called SEPA Migration End-Date Regulation establishing technical and business requirements for credit transfers and direct debits in euro provides that as of 1 August 2014 payments throughout SEPA shall be made on the basis of the unique payment account identifier IBAN*.
The SEPA Migration End-Date Regulation lays down that as of 1 January 2014, within SEPA, including Latvia, the payment service provider no longer requires the payment service user to indicate the BIC** of the payer or payee's payment service provider for national payments. A similar requirement regarding cross-border payment transactions is applicable from 1 February 2016.
The structure of Latvia's IBAN is described in the international standard ISO 13616, for which SWIFT is the designated Registration Authority. Open document in SWIFT homepage.
The control digits shall be calculated in accordance with the calculation method MOD 97-10 described in International Standard ISO 7064 "Information technology - Security techniques - Control sign systems".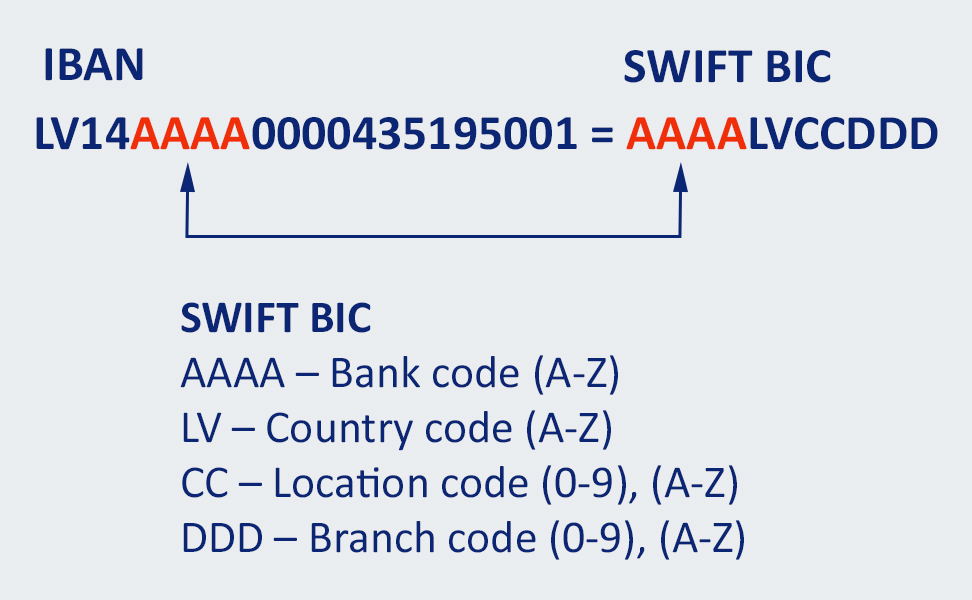 For example:
Payment service provider
IBAN structure
BIC
1.
AS BLUEORANGE BANK
LV**CBBR
**** **** **** *
CBBR
LV22XXX
2.
LUMINOR BANK AS
LV**RIKO
**** **** **** *
RIKO
LV2XXXX
3.
AS "SEB BANKA"
LV**UNLA
**** **** **** *
UNLA
LV2XXXX
4.
AS "INDUSTRA BANK"
LV**MULT
**** **** **** *
MULT
LV2XXXX
5.
"SWEDBANK", AS
LV**HABA
**** **** **** *
HABA
LV22XXX
6.
SIGNET BANK AS
LV**LLBB
**** **** **** *
LLBB
LV2XXXX
7.
AKCIJU SABIEDRĪBA "CITADELE BANKA"
LV**PARX
**** **** **** *
PARX
LV22XXX
8.
AKCIJU SABIEDRĪBA "REĢIONĀLĀ INVESTĪCIJU BANKA"
LV**RIBR
**** **** **** *
RIBR
LV22XXX
9.
LATVIJAS BANKA
LV**LACB
**** **** **** *
LACB
LV2XXXX
10.
AKCIJU SABIEDRĪBA "LPB BANK"
LV**LAPB
**** **** **** *
LAPB
LV2XXXX
11.
AKCIJU SABIEDRĪBA "RIETUMU BANKA"
LV**RTMB
**** **** **** *
RTMB
LV2XXXX
12.
VALSTS AKCIJU SABIEDRĪBA "LATVIJAS PASTS"
LV**LPNS
**** **** **** *
LPNS
LV21XXX
13.
THE TREASURY OF THE REPUBLIC OF LATVIA
LV**TREL
**** **** **** *
TREL
LV22XXX
14.
OP CORPORATE BANK PLC FILIĀLE LATVIJĀ
LV**OKOY
**** **** **** *
OKOY
LV2XXXX
*IBAN - International Bank Account Number
**BIC - Business Identifier Code